Roll over image to zoom in
Click to open expanded view
eufy Lumi Motion Sensor LED Light
Sh 100,000
This item will be released at a future date.
Ideal Lighting: Provides the right amount of glare-free lighting to guide you in the dark.
Automatic Illumination: When light sensor perceives darkness, motion sensor activates lighting when movement is detected.
Energy Efficient: Three AAA batteries (not included) provide soft illumination for up to a year.
Nighttime Navigation: Eliminates need to turn on blinding lights in the middle of the night.
What's in the Box: 3x Lumi Stick-On Night Lights, 6x Screw, 6x Wall Plugs, User Manual, 1 year warranty.
Compare
eufy by Anker, Lumi Stick-On Night Light, Warm White LED, Motion Sensor, Bedroom, Bathroom, Kitchen, Hallway, Stairs, Energy Efficient, Compact, Battery Operated, 3-pack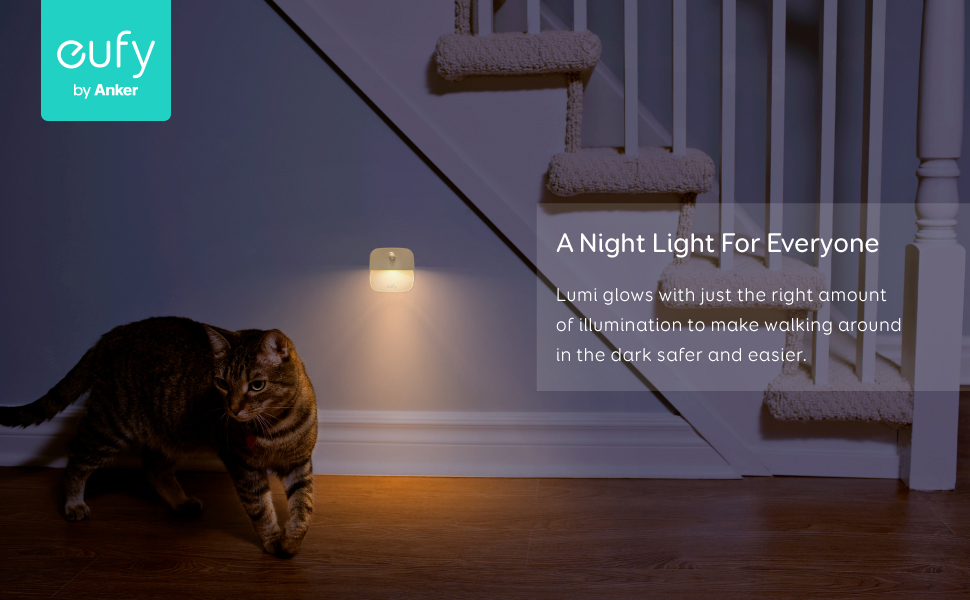 SPECS
Dimension
72 x 72 x 32 mm / 2.8 x 2.8 x 1.3 in
Battery
3 AAA batteries(not included)
Light Wattage
FAQ
What should I do if the light does not turn off in bright areas.

When Lumi lights up due to motion in the dark and then another bright light source is turned on, Lumi will remain lit and only turn off if motion is not detected for 15 seconds.
What should I do if the light is too dim?

The batteries are low. Replace the batteries.
What should I do if the night light does not work?

1. Lumi is installed in an area with too much light. Move Lumi to an area with less light exposure.
2. Lumi is not able to detect motion within its effective range. Make sure there are no obstructions blocking Lumi's motion sensor.
3. Batteries are out of power. Replace batteries.
Sometimes I need to be very close to the light in order for the sensor to work. Why?

The sensitivity of the infrared sensor is easily affected by the ambient temperature. High temperatures may lower its sensitivity.

Where can the night light be installed

The night light can be placed where dim light is needed, such as a corridor, kitchen, bedroom, closet, etc.

Is the night light very bright? Can it be used as the main light source?

It is not very bright and cannot be used as the main light source.

What is motion sensor's maximum field of view?

The motion sensor is designed to cover an arc approximately 120 degrees wide and detects motion up to 3 meters/10 feet away.

The effective distance and range are subject to the ambient temperature.

Is there a button I can use to turn the night light on and off?

No. The light and motion sensors automatically controls the light.

How does this night light work?

Lumi turns off automatically in bright environments. In dark areas, Lumi automatically turns on when motion is detected within its effective range. The light automatilly turns off if motion is not detected for 15 seconds.

Is the night light waterproof? Can it be used in a bathroom?

No, the night light is not waterproof, but it can be used in a relatively dry bathroom.

How do I install the night light?

This night light can be installed two different ways:
1. Installing Lumi with the adhesive mounting bracket;
2. Installing Lumi with the supplied screws.Please find more details in our product manual.
Only logged in customers who have purchased this product may leave a review.